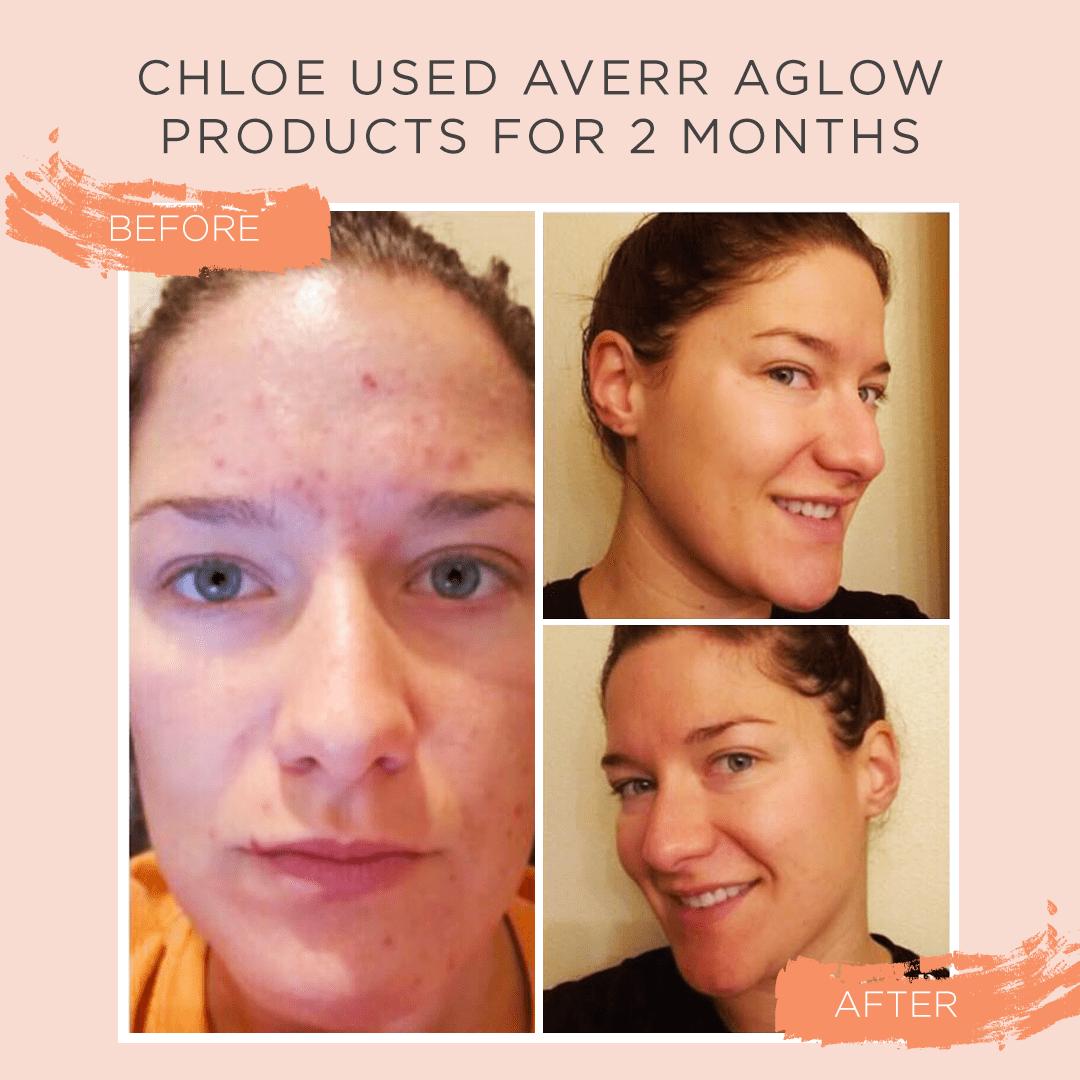 CHLOE
Image with text
"I am just the average person who tried everything and nothing worked (since age 12, now 31). I saw this as an ad and thought just another product that's costly and overrated....but it's not! I had the courage to try it, and I am a forever user of Averr Aglow! It has changed my everyday life. My skin is by no means perfect...yet, but I wanted to share my story even though I'm usually not the type to put it all out there like this. Here is my before and after! This is years of pain and suffering during my adult life because of acne, along with my skin as of yesterday! What a difference 2 months makes, and how great these products feel. My skin is nourished and not dry or oily and that is the best feeling! Thanks Averr Aglow and I hope this gives some of you hope or the courage to try it!"
MINDY
J 33, Gering NE
I've been using the Clear Skin Kit for about six months. I have had acne since my teens, everything I had tried never really worked. Over the last few years I have had cystic and hormonal acne and had a hard time getting it under control. So, I decided to start using Rodan and Fields. I did 2 rounds of their unblemish regimen and it didn't help at all. Then, I came across AverrAglow and decided to give it a try. I'm so glad I did. It has cleared up all my acne and I haven't had any major breakouts like I had been having, and has helped all my scars lessen. My before pictures are AFTER the 2 rounds of R&F in January and my after pictures were taken in June after using the Clear Skin Kit.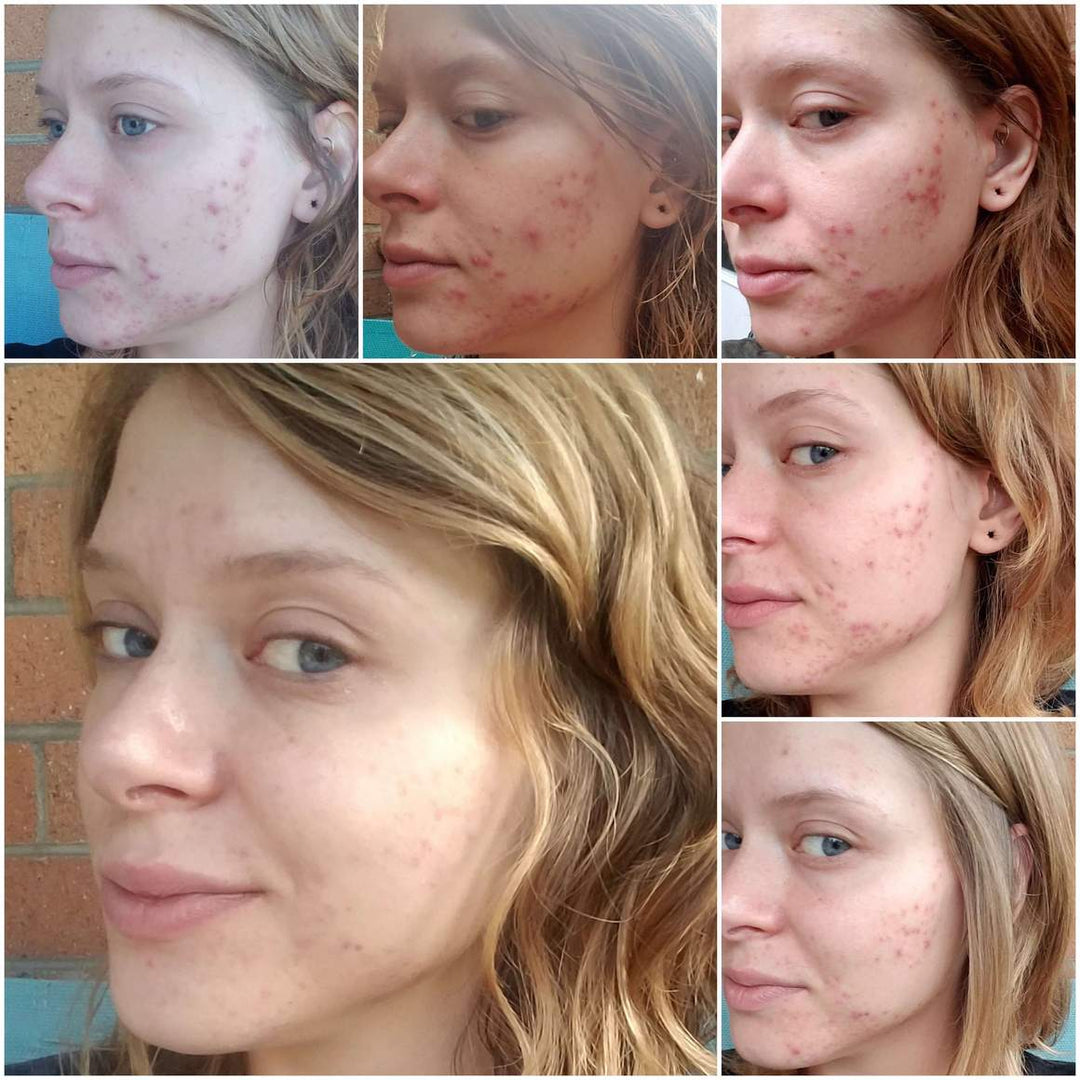 MELISSA D
Aliquippa PA
I have been using the kit since early July and I am loving the results! Out of nowhere in January of this year I started having the worst acne ever. Saw an ad on Instagram just one month before my wedding and decided to go for it. While I wasn't 100% clear for the big day, I was in no more pain and the redness was now something I could correct.
It wasn't until just the last few weeks I looked in the mirror realizing that my troubles seem to be fading away! I will still have one or two baby zits now and then but wow! So 3.5 ish months in i am so happy I saw that ad! Thank you for an amazing product!
ABBY
"I've struggled with acne since I was 12 years old and have tried everything under the sun (you know how it goes) and I just can't say enough good things about the Averr Aglow skincare line.
Most importantly that it's actually an all-natural regimen. I don't even have to use our gross city water to cleanse my face. It's great."
HOLLI S
24, Austin TX
I've been using AverrAglow for a couple months now, and I have been floored by the results. I've searched for something - anything that works for my skin. All I've wanted is go without makeup and feel comfortable in my skin. I've tried everything and it's failed. All natural products are also of utmost importance and all the natural products I've tried have failed as well.
I've shown everyone I know these pictures and told them all about AverrAglow. People ask me all the time what I'm using and I gladly tell them. My best friend also hopped on board and is loving her results so far.
ADELE
"From the beginning of my teens to now 36, I have struggled with some form of acne. The fortune spent on high-end products, low ends products, home remedies, doctor appointments/treatments.....26+ years so much wasted time and money. Teen acne, hormonal acne, cystic acne...what have you.
This past June I was fortunate enough to stumble upon the Averr Aglow FB ad.....honestly didn't think it would help me but I had nothing left to lose and extra money in the budget so I purchased the clear skin kit with hesitation and doubt.
My current bout of acne were large cysts on my jawline, under the jaw, and down the neck, they were painful and embarrassing. The picture on the right is when I started in June (excuse my angle but it was the only way to see it all at once under the jaw and down the neck). The left is this week ♥️ I went through the purge like everyone else for a good 2 plus months which basically just stayed like the right picture plus a few more cyst clusters. I just kept going.
I didn't want to feel defeated again so I just kept going, stayed hopeful and boy, I'm so happy I did because there is a light at the end of the tunnel! I have not had a cyst come back since the beginning of September! Even during those times of the month and not changing my diet one bit. I still have texture issues due to the years of acne and scarring...
But every day gets better and better and I just want to thank you Averr Aglow for finally ending my struggle with acne and making it possible to walk outside without makeup on!"
CRYSTAL M
28, Lancaster PA
I've had been struggling with cystic acne, oily skin, and enlarged pores for about 15 years. I've been to the dermatologist and have been prescribed clindamycin for a couple years. I've tried Proactiv, Murad, retinol, benzoyl peroxide, and so many products with salicylic acid. Everything I have used has had many artificial processed ingredients.
When I looked into AverrAglow it was so refreshing to see a company actually using all natural ingredients, I had to try it out. I ended up getting the Clear Skin Kit & within the first week my skin felt renewed. My pores were smaller, I didn't need to exfoliate as often and my acne had pretty much disappeared. I have been using the kit for 6 months & will continue to use it for the rest of my life, I love that it's good for anti-aging as well. Nothing harsh or artificial, so I feel like it gives me the skin I was supposed to have.
EMILY
"Almost one month apart. In the worse picture, I hadn't used Averr Aglow yet. That was the worst my skin had been in years (thanks, stress, and hormones from planning my wedding). Products alone won't fix your acne, if you're hoping this will cure you, you are wrong. You need to change your diet and maybe even get your hormones checked but a product alone won't cure you. I've worked with my esthetician for years and she's told me this soooo many times.
Acne takes at least 30-60 maybe even more days to come to head because of the way your skin regenerates. So to the people breaking out and purging, that acne was there already, it's just releasing itself.
This all takes time. If you expect results right away and keep swapping products you're going to be sorely disappointed. If you think this is too expensive, the pain of having acne is worse. Don't hop around to cheap drugstore products just because they are easy and convenient. Prioritize. Your face should be worth it. Especially if you are like me and want to feel confident in your own skin. You can't wash your face once and expect it to be clear just like you can't work out once and expect to be in shape.
September 18th and October 13th. Trust the process. Everything takes time."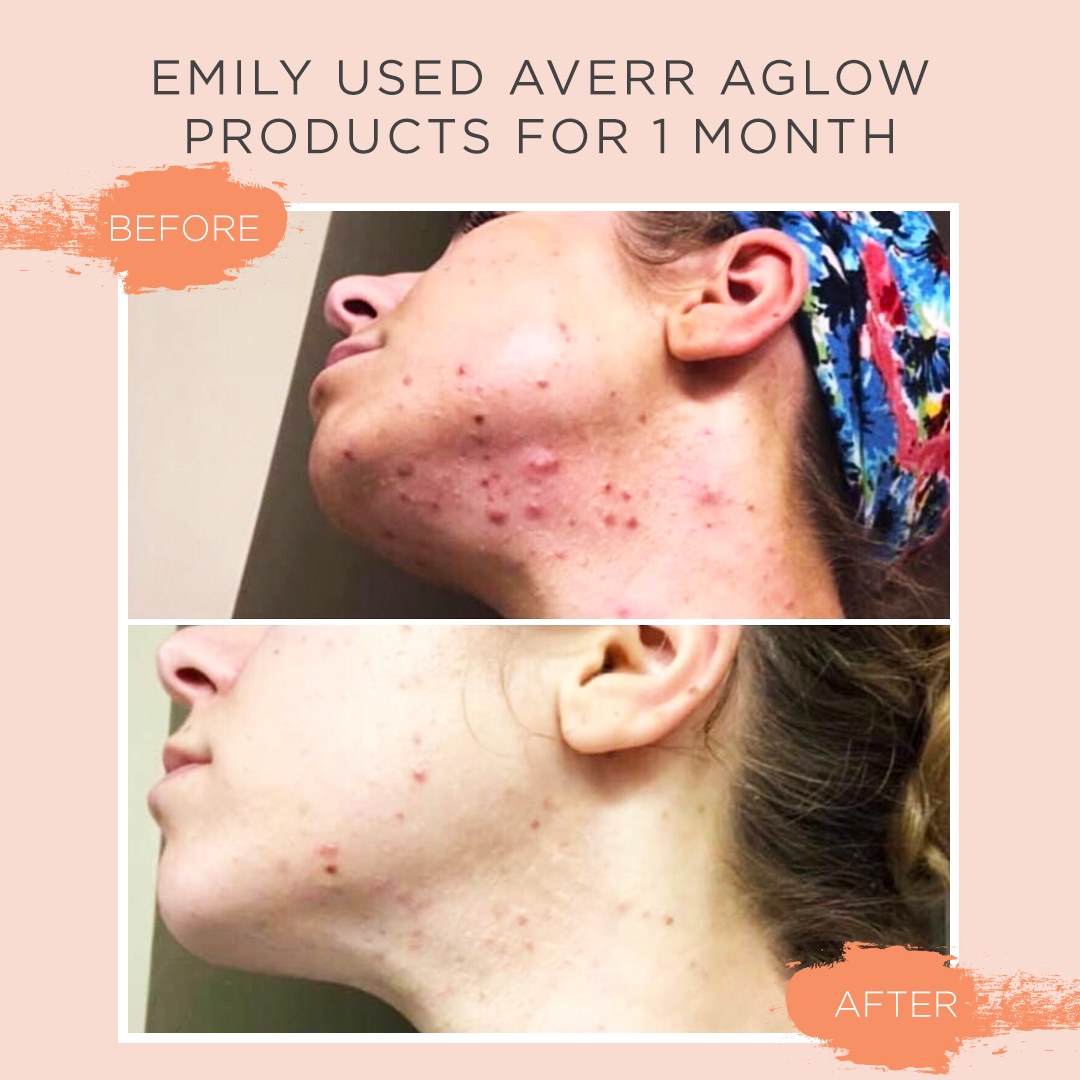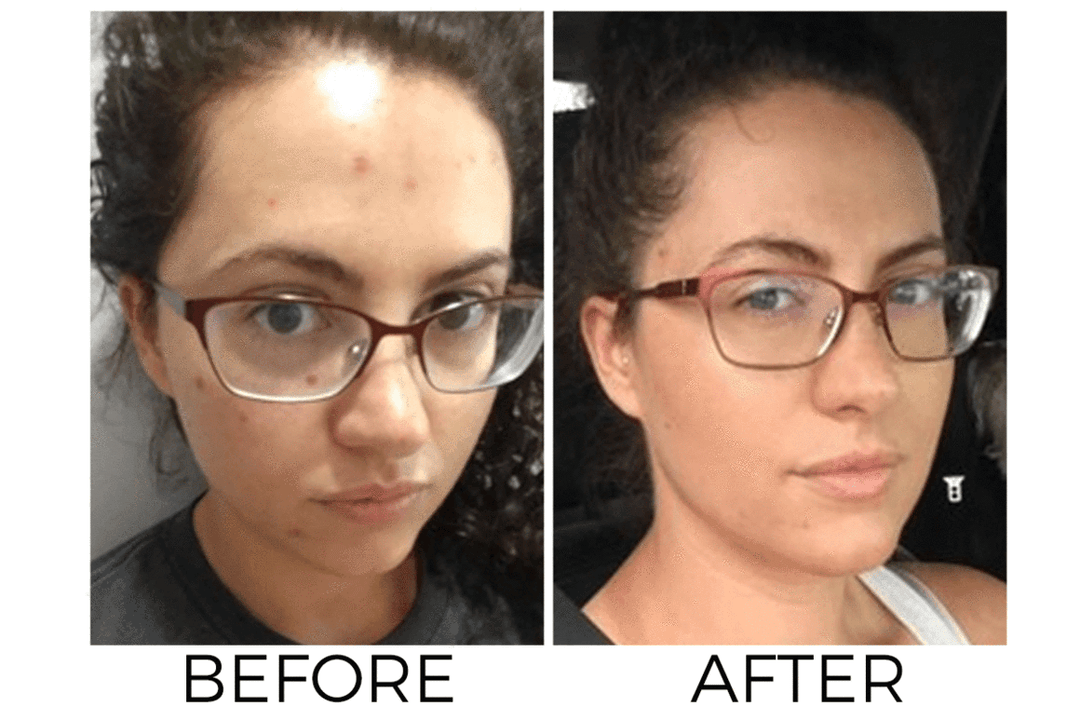 LYNDSAY B
St. John MI
I have very oily skin that easily clogs. It has been a long road finding something that doesn't dry me out or scar my skin. I've tried every product under the sun and avoided taking pictures.
I started to use the Clear Skin Kit, and now I no longer breakout and get the painful, deep red cysts I used to get. Thank you from the bottom of my heart. I am a loyal customer!  
READY FOR CLEAR SKIN?
Tired of looking in the mirror dreading what you see? Become our next Before & After and feel confident in your skin.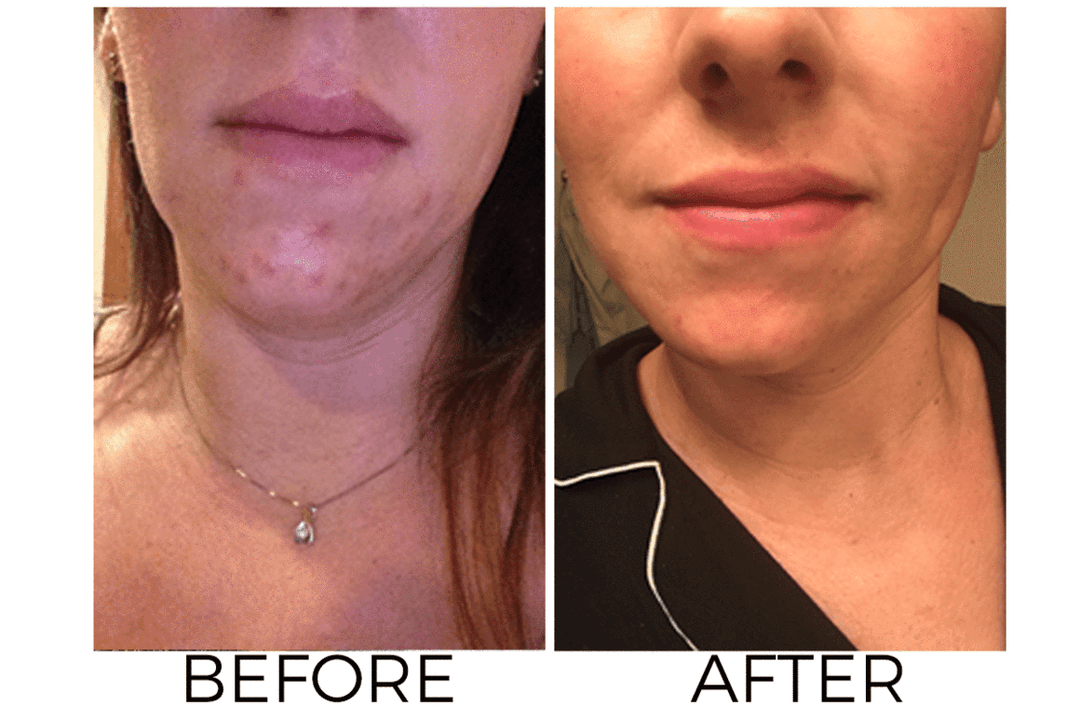 KATIE S
Eau Claire WI
I started struggling with acne in college. After trying every grocery store 'cheap' option I finally ordered Proactiv and found it worked well. As I got older I wanted to stop using it, I was becoming aware of just how many chemicals and ingredients were in it. While it helped with my acne, my overall skin was often extremely dry. I was desperate for products that not only helped my acne, but was also good for my skin. But it had become a sort of crutch, I thought for sure if I stopped using it my face would break out.
In 2016 I became pregnant with baby boy #2! I again quit using Proactiv, but this pregnancy I unfortunately had awful skin, particularly on my chin. Then one day last December, I came across a AverrAglow ad on Instagram. I clicked on it, was very intrigued.
I ordered the kit and used it as directed. Within a week I realized I had no new pimples. I took a before photo then, because I knew I would want to see how it worked for me. Within a month I had not had one new pimple and the acne I did have had cleared up.
KELSIE R
24, Goldendale WA
I've used the Clear Skin Kit about 4 weeks. I have been struggling with acne since I was 14 years old. I've always had small breakout here and there, but when I got older I started getting really bad acne everywhere.
I've seen dermatologist after dermatologist. I've tried basically every over the counter acne medication you could think of and of course, nothing has worked. I have very sensitive skin, so everything that has been given to me dried my face out to the point it almost made it worse. Then someone told me it sounds weird but oil fights oil. It sounded crazy to me, but then I started researching and came upon AverrAglow. I was very skeptical, but figured why not try it; I've tried everything else. I was so excited to try it and love my results so far!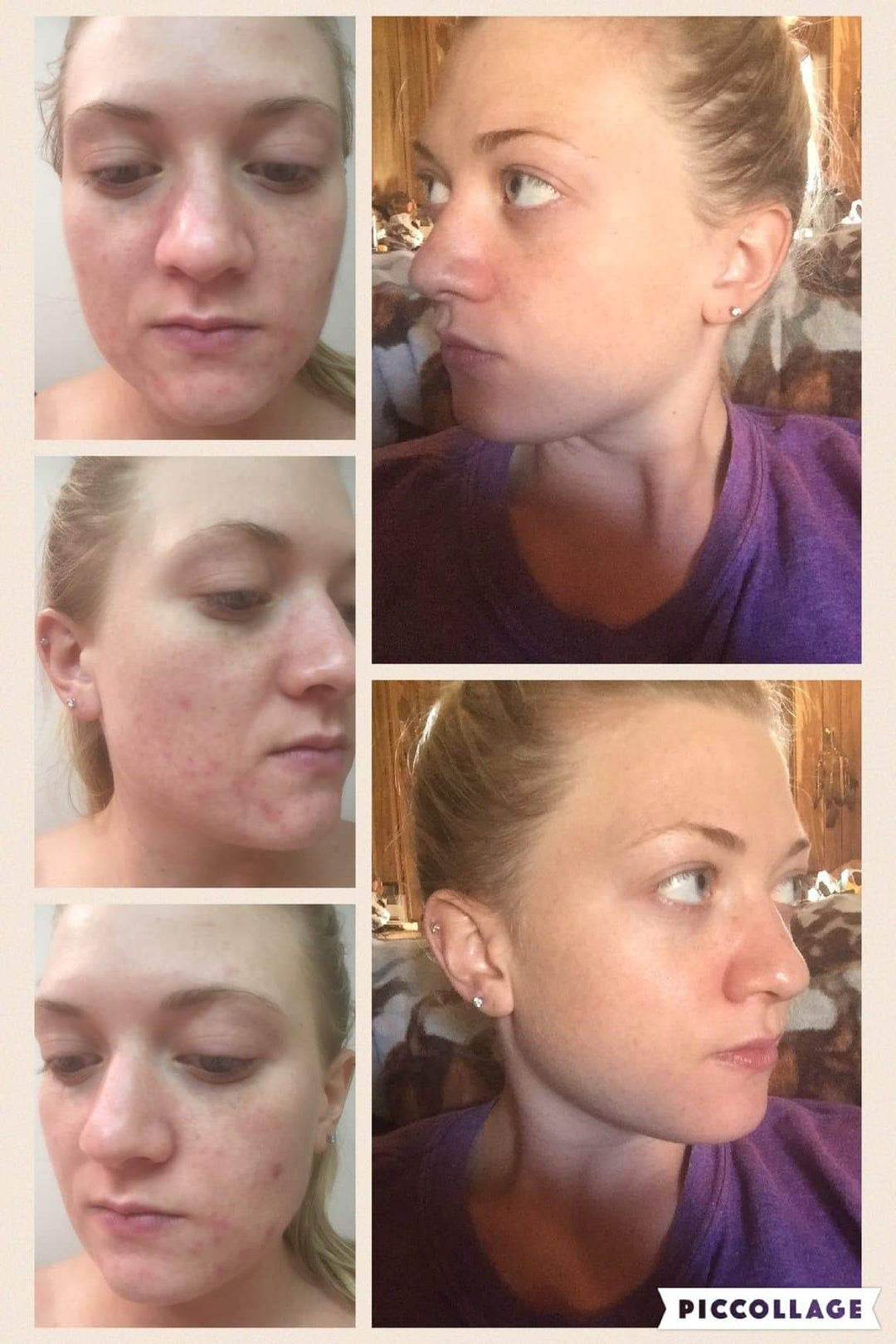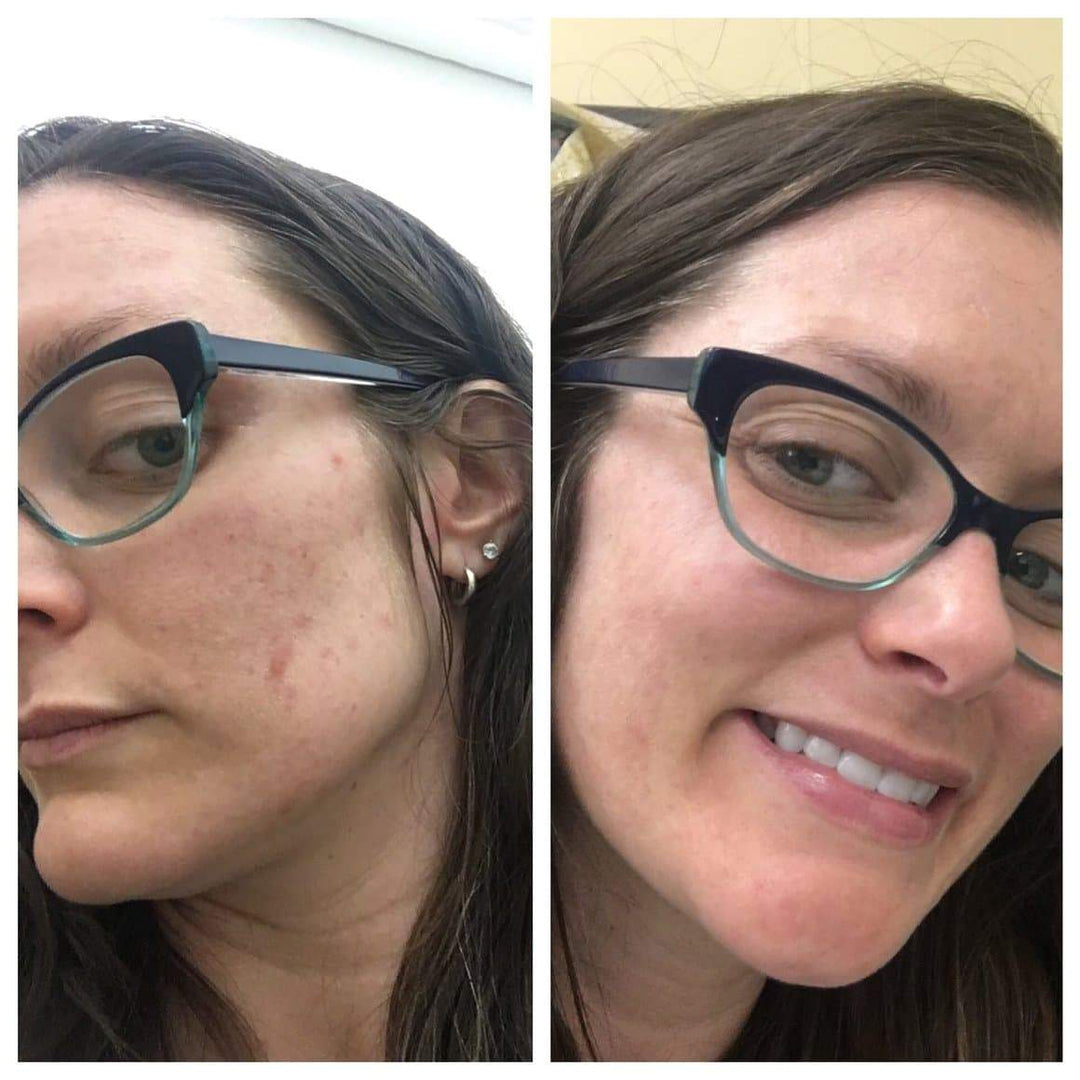 LYNDSEY G
30, Annapolis, MD
I have had difficult skin since teen years.  I had been using Proactiv for ten years and my skin was dull, still had breakouts and I knew there had to be a better system that did not dry my skin or that was full of chemicals.  
I then went on a year quest to find a perfect natural system and tried countless methods, the ACV method, the no wash method (caveman), the oil only method, plain soap, various other natural lines and was breaking out worse than ever.  I saw an add on Facebook for Averr Aglow and assumed it was bogus because it was on Facebook; but as I was desperate so I looked anyway.  Turned out the ingredients were AMAZING and no chemicals.  I figured why not and haven't looked back.  
LARA C
30, Delray Beach, FL
I have been using AverrAglow since March. Prior to this I used a lot of dermatologist prescribed acne medications including antibiotics and retinol based creams.
Approaching 30 years old for me was a complete disappointment. My face took a toll on me and coming from a person who never had cystic acne, I was devastated. So, like most women I immediately booked an appointment with a dermatologist and also an esthetician for a facial, for 7 months I followed all instructions from both professionals with no results. I was having to wear a lot of makeup just to cover my face. My confidence level was so low, that I no longer wanted to be social with people.
Until one day I couldn't sleep and decided to surf my Facebook account and came across an article featuring all that AverrAglow had to offer. At first I was very skeptical, (having tried so many products) but then I thought to myself, what do I have to lose? What the heck! I already had spent lots of money on professional help and nothing worked, so this products were my last attempt at beautiful skin! And let's just say that for the record, I have never made a better choice when it comes to my skin. Thank you for the invention of AverrAglow. This experience has truly been a remarkable investment.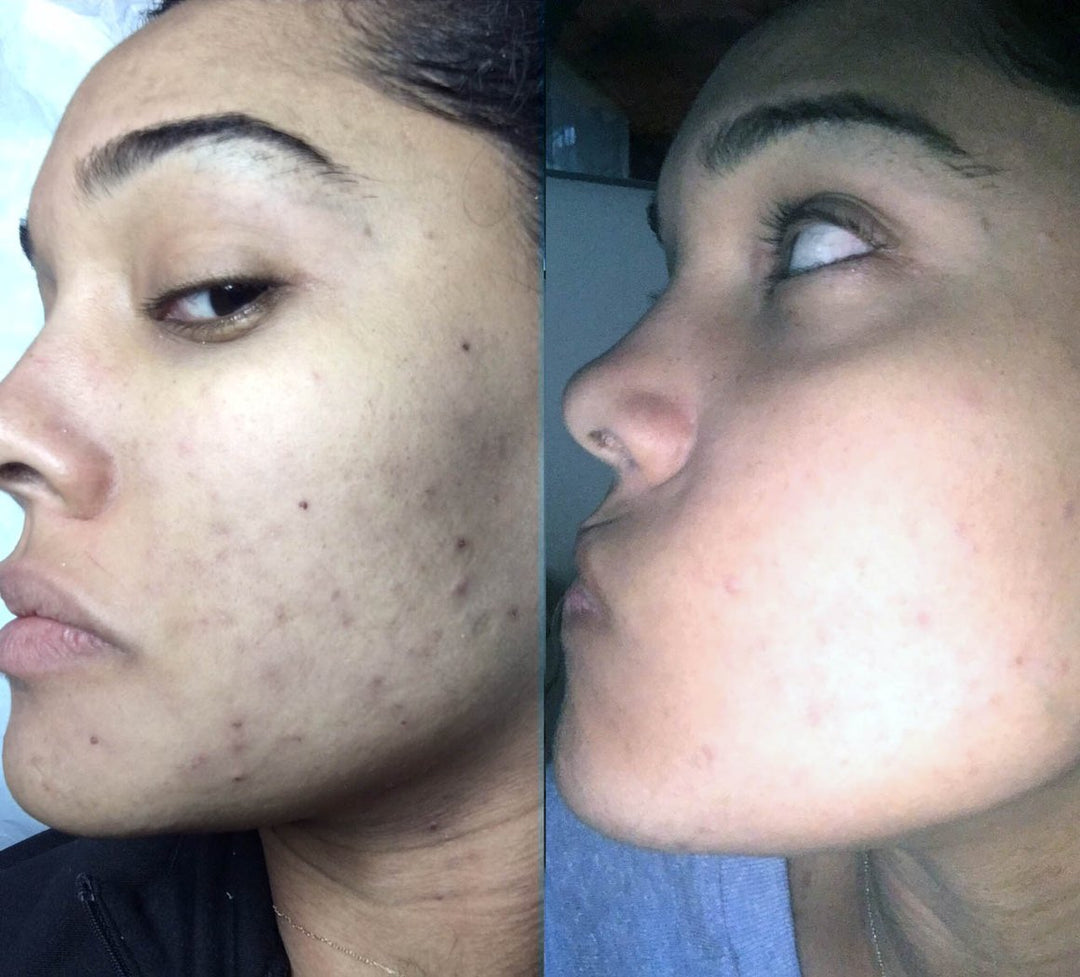 JULIE S
44, Langhorne, PA
I am currently 44 and have suffered from acne for over 20 years. There were times when it was not that bad, but there were also times when it was unbearable and I would call out from work and avoid social situations because I was ashamed of how my skin looked. I can't even imagine the thousands of dollars I have spent trying to find a way to fix my skin, but I never found a long term solution. I do not have cystic type acne, but the type that I now understand is hormonal acne that causes breakouts, plus I have had a very bad problem with clogged pores and contact dermatitis.
I suffered through a miserable summer before stumbling on a way to heal my skin that following fall I first came across the Averr Aglow. The packaging was so gorgeous that I had to try it. I try to only use green beauty, and I was impressed with the ingredients I used the Clear Skin Kit. I first contacted customer service, and every experience I have had with them has been beyond helpful. Their customer service truly is first rate.
Three days into using the Clear Skin Kit, I could tell that it was working. How? Well, my skin started FEELING different. It started feeling more like the skin on my body, which in general has never been prone to breakouts. I had a few VERY tiny little pores that seemed to be unclogging during the first week, but since the day I started using Averr Aglow I have not had one new blemish pop up. I love every piece in the four part system, but my favorite is the mask. When I first started using it I appreciated being able to "hide" my breakouts - out of sight, out of mind. Now I enjoy using it because my skin is so clear and vibrant when I remove it in the morning. The cleanser truly removes any trace of makeup from my skin, the spray is so refreshing and smells amazing, and the moisturizer is a dream under mineral makeup.
JULI C
I have been using the products for little over a month. I can't believe I am seeing flatter, clearer skin! Thank-you so much for giving me my confidence back!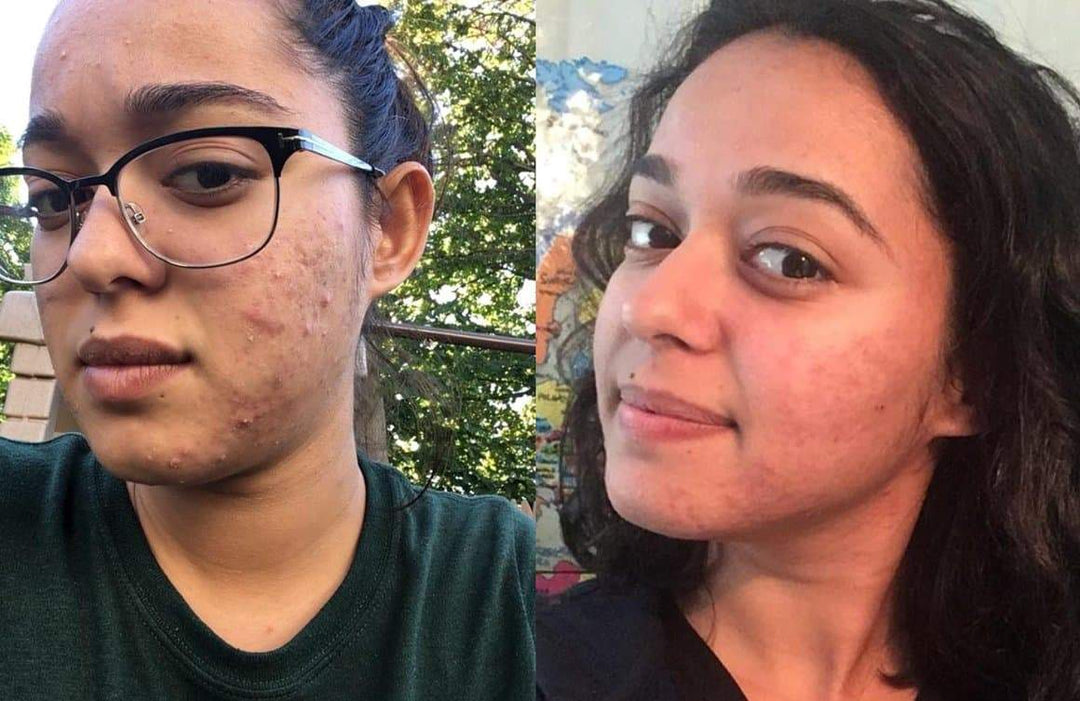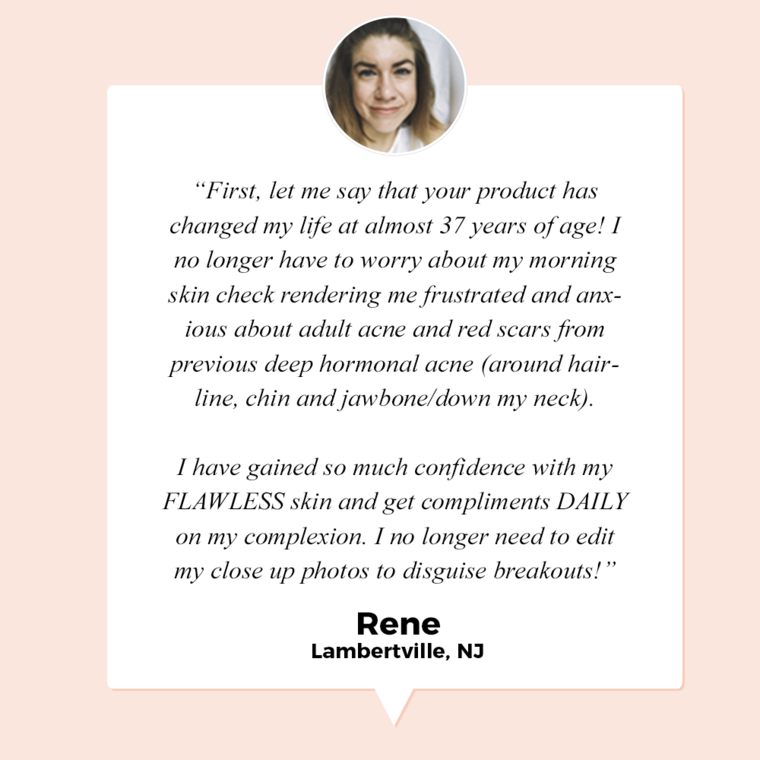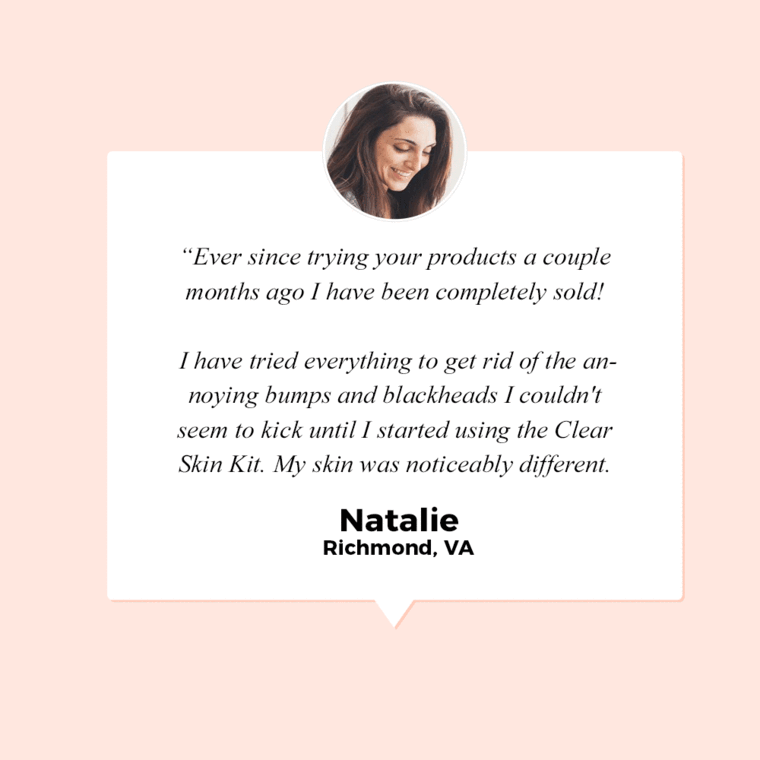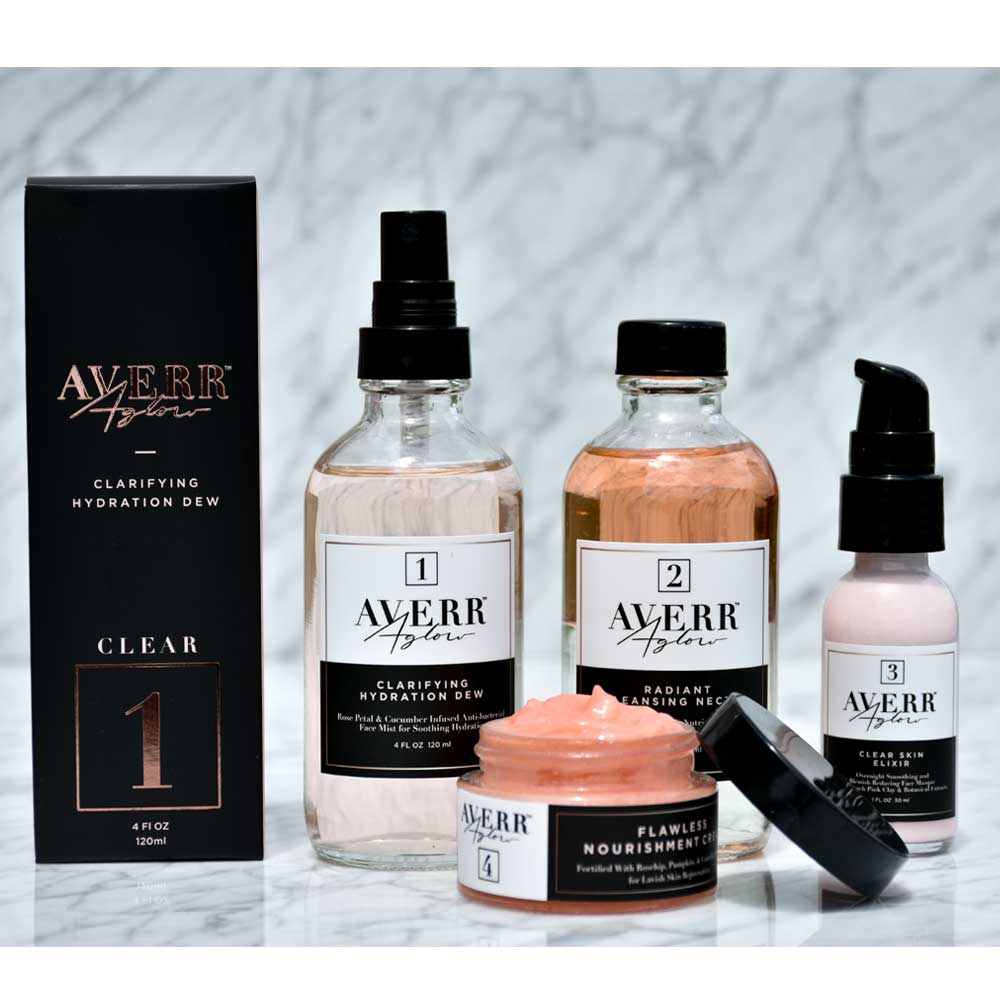 READY FOR CLEAR SKIN?
Tired of looking in the mirror dreading what you see? Become our next Before & After and feel confident in your skin.