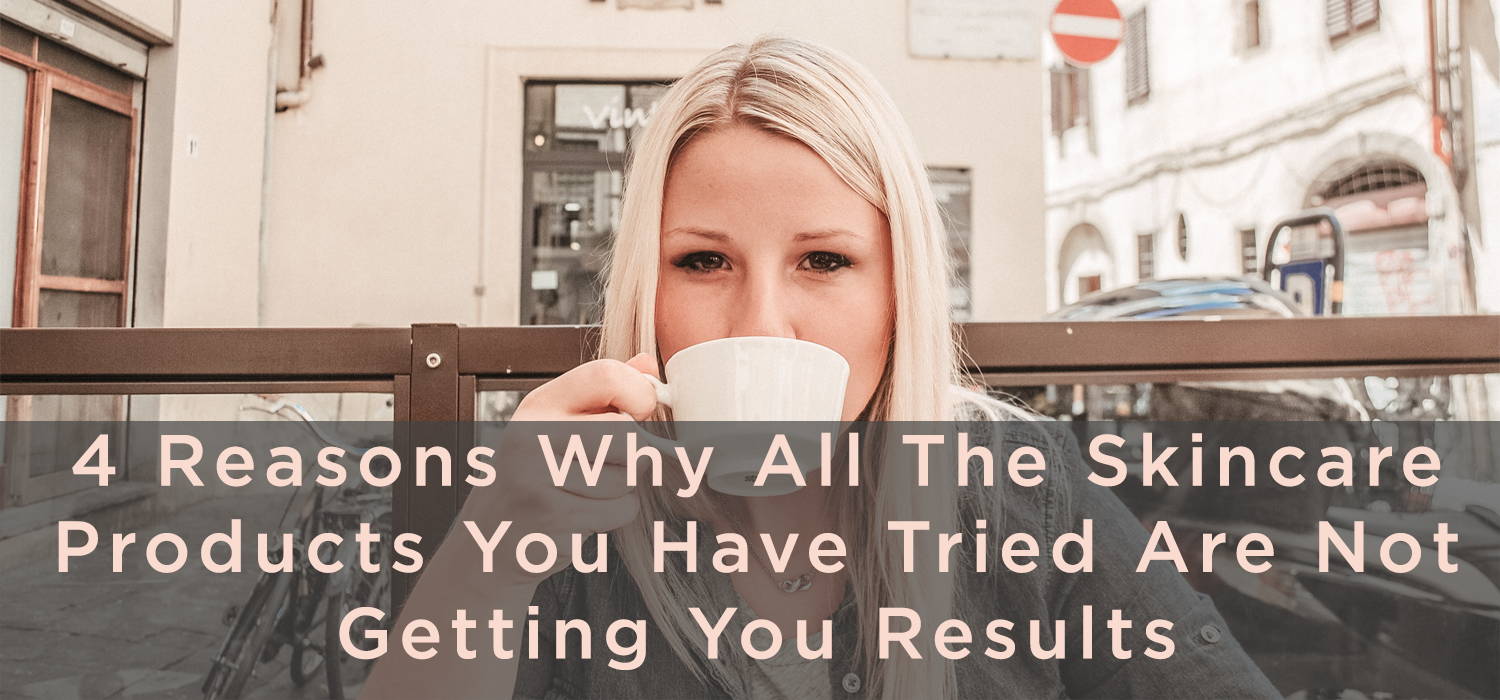 Dealing with breakouts can be extremely frustrating...
All the worrying about scarring from it, lack of confidence that creeps in due to the looks of the skin.
Even the career can be affected by it.
What's worse is there is so much information only and so many brands claiming they can help you get rid of your breakouts immediately…
However, after burning through 100's of dollars on skincare products, the question turns into why does no skincare ever work for clearing up my breakouts?
That's why I am pulling back the curtain and showing you the 4 reasons why nothing has ever worked and what you need to look for in skincare to find the results you are after!
1. Improper Exfoliation Can Make Your Breakouts EVEN Worse... Here Is Why.
Breakouts are due to clogged pores, which consist of dead skin. Exfoliation is a big key to removing this skin and eliminating clogged pores.
However, you can exfoliate improperly. Make sure to use a gentle mechanical exfoliation daily and not a chemical one, as chemical exfoliation can be too harsh on sensitive, breakout-prone skin for daily use.
2. Removing Harmful Bacteria At All Cost
Getting rid of bad bacteria from your skin is good...
But have you ever felt this tight and dry feeling on your skin? This means that it did not only got rid of your bad bacteria but also the good one.
That's why by using most of the over the counter skincare products you don't see any results...
Make sure to use ingredients like Manuka, Tea Tree Oil, Hawthorn Berry, Colloidal Silver to kill the good bacteria and promote the good one.  
Make sure you are using a cleanser preferably with multiple natural ingredients that work against bad bacteria for the fastest results.
3. NOT Having Balance On Your Skin
Your skin needs oil to protect itself.
However too little leaves you too dry, too much leave you oily, and combo skin, well, leaves you frustrated.
By using cleanser with the correct natural oils that mimic your skin's naturally produced oils will balance every skin type leaving you with a perfectly hydrated glow.  
4. Don't Forget the Secret Sauce... Good Nutrition
Your skin is like an organ... And just like the rest of your organs, it needs good nutrition, to fight off breakouts.
Make sure everything from your cleanser to your daily moisturizer is made with natural plant and mineral-based ingredients.
As your skin can absorb the nutrients from these ingredients topically and create new healthy skin cells with it.
The problem is - most skincare products addresses one or two of these factors!
... And the reality is... breakouts are stubborn.
To see real results, you have to have ALL four components mentioned above...
What's more - they all have to be working together to heal and prevent breakouts from forming.
This requires specific, multiple ingredients working together to balance oil, eliminate that harmful bacteria, balancing that oil, and exfoliating dead skin.
---
Want to start seeing results in your skincare routine and skip all the trouble of searching for one that has all the above-mentioned items?
Introducing you to Averr Aglow products... We remove the guesswork from skincare routine...
This unique formula of over 40 + all-natural ingredients heals breakouts, blackheads, and blemishes EVEN if nothing else has worked before.

Clear Skin Kit Includes the following items:
Flawless Nourishment Cream
After battling with breakouts for over 16 years it was this new routine  that had my skin cleared up in no time at all and has helped over 42,641 + women get clear skin results they have been looking for.
Here Is Our Bestselling Overnight Mask
OVER 60 APPLICATIONS in this is pink, creamy face mask that is designed to be worn all night and won't rub off on the pillow. Helps balance oily, combo, dry skin types. Crafted to heal current breakouts, prevent new ones from forming, scars, marks, and uneven skin tone.
Here Is What over 20,000 Customers Are Saying About Us
⭐⭐⭐⭐⭐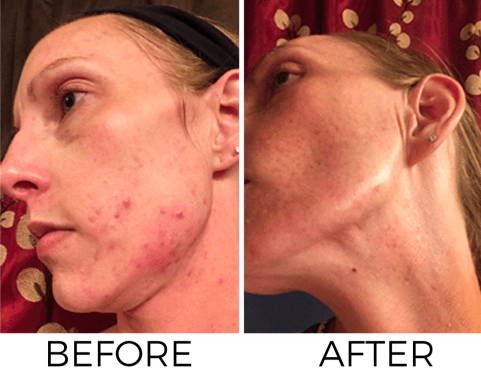 I've been using the Clear Skin Kit for about six months.
I have had acne since my teens, everything I had tried never really worked. Over the last few years, I have had cystic and hormonal acne and had a hard time getting it under control. So, I decided to start using Rodan and Fields. I did 2 rounds of their unblemished regimen and it didn't help at all. Then, I came across Averr Aglow and decided to give it a try. I'm so glad I did. It has cleared up all my acne and I haven't had any major breakouts like I had been having, and has helped all my scars lessen.
My before pictures are AFTER the 2 rounds of R&F in January and my after pictures were taken in June after using the Clear Skin Kit.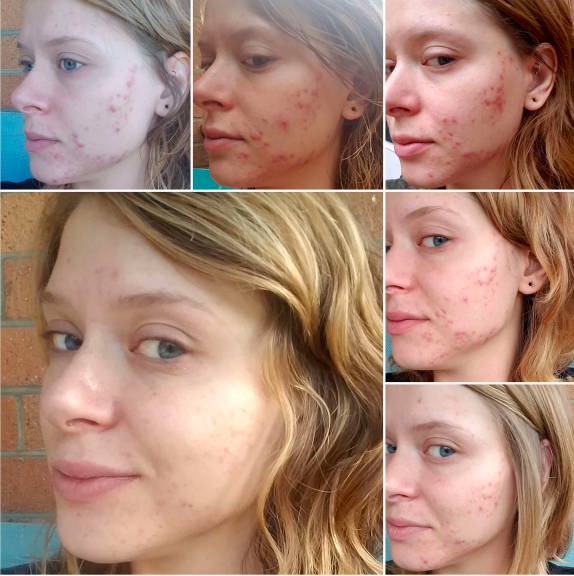 ⭐⭐⭐⭐⭐
"I have been using the kit since early July and I am loving the results! Out of nowhere in January of this year, I started having the worst acne ever. Saw an ad on Instagram just one month before my wedding and decided to go for it. While I wasn't 100% clear for the big day, I was in no more pain and the redness was now something I could correct.
It wasn't until just the last few weeks I looked in the mirror realizing that my troubles seem to be fading away! I will still have one or two baby zits now and then but wow! So 3.5 ish months in I am so happy I saw that ad! Thank you for an amazing product!"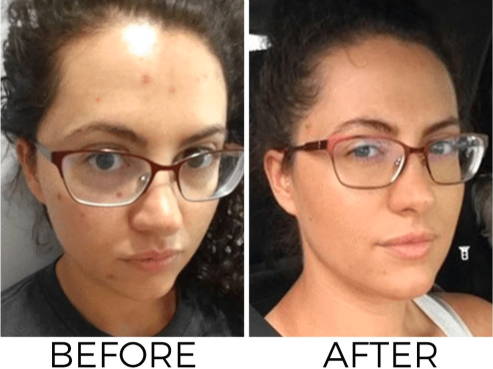 "I have very oily skin that easily clogs. It has been a long road finding something that doesn't dry me out or scar my skin. I've tried every product under the sun and avoided taking pictures.
I started to use the Clear Skin Kit, and now I no longer breakout and get the painful, deep red cysts I used to get. Thank you from the bottom of my heart. I am a loyal customer!"  
This unique formula of over 40 + all-natural ingredients heals breakouts, blackheads, and blemishes EVEN if nothing else has worked before.

Clear Skin Kit Includes the following items:
Flawless Nourishment Cream